Deutsch
State of affairs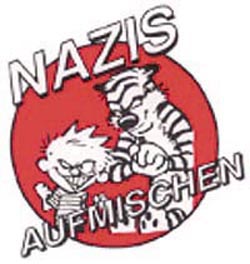 Listen to Radio Dreyeckland on 102,3 MHz and go to the site of the Autonome Antifa Freiburg!
On September the 14th, the nazis were blocked in front of the main station in Freiburg by thousands of demonstrators and among these hundreds of radical left antifascists. The police arbitrarily made a cordon around about 200 anarchists and prohibited them from further staying in the inner city of Freiburg. This page will only be reactivated when the fascists try to come back again. Up to then, it will serve as an archive.
We are radical left anti-fascists and resist against the nazi rabble. That's the reason why we maintain this page as an offer to all those who want to...
Fight the fascists!

disclaimer
---

www.nonazis.de.vu
- last edited on 2012/03/01 - online since 2002/07/25